Zombie History
------------------------------------2017 VERSION-----------------------------------
White Zombie's clean street sleeper look for Netflx 'Fastest Car' TV show, Fall of 2017.
Motor: 'Siamese 9' dual armature brushed series-wound. 538 hp, 1250 ft. lbs. from 0-3100 rpm. New temp sensor and higher output fan added to forced air-cooling system in preperation for desert racing:
The Siamese 9 motor is carried over from 2016 with no changes and is in top condition.
Drive type: Direct drive into Ford nine inch differential - no flywheel, clutch or transmission. Electric reverse.
Driveshaft: Single piece all aluminum driveline from 'Inland Empire Drivelines'. NHRA required Driveline loop.
Rear axle:
Dutchman heavy duty Street/Strip Ford nine inch rear axle setup with Strange
aluminum differential housing, Detroit locker and 31 spline racing axles. Tall
3:25 gears, CalTracs and sticky drag radials take advantage of the electric
motor's maximum torque at zero rpm for quick launches - 1.33 best 60 ft.
Wheels & tires:
The Datsun 1200 economy car came standard with 12 x 4 inch steel wheels
fitted with hubcaps. Major suspension and braking system upgrades in 2010
pushed the rim size to 15 inch to make room for substantially bigger brakes,
10.75 inch cross-drilled Brembo rotors pinched by Wilwood 4 piston calipers
in front and 11.5 inch solid rotor Wilwood drag discs with 4 piston calipers in
the rear (see 'Other Mods' 2010 section). (below left) In 2014 the front 15 x 4
wheels with 145 x 15 rubber 'skinny setup' was swapped-out with custom built
15 x 6 American Racing two piece 'Torq Thrust D' rims with a special 'Zombie'
offset and mounted with low profile Federal 165/45/15 tires. (below right)
American Racing 'Torq Thrust D' 15 x 8 two piece rims with 225/50/15 BF
Goodrich 'G Force' Drag Radials' for strong launches! (2014 Wheels & tires')
Batteries:192 Dow Kokam lithium manganese nickel cobalt polymer cells configured at 2P96S make up the Zombie's 355V, 21.3 kWh high current battery pack. The UHP (ultra high power) cells are 3.7V, 30 ah nominal with a continuous discharge rate of 20C, have a 40C 10 second rating for a maximum of 1200 amps from each cell, and are configured in paralleled pairs so the battery pack can safely output 2400 amps. With a manufacture date code of 2007 they are now 10 years old and have been in service since 2010. All cells are still performing 'as new' and are well balanced. The Zombie sees regular duty as a street car, with one particular weekly mixed 65 mph freeway and 45-50 mph twisty country road round trip. Returning to the garage after 54 miles, the pack is still at 342V, or 3.56V per cell (Vpc). With a useable discharge range from 4.1 Vpc (396 pack Volts) down to 3.0 Vpc (288 pack Volts), this backs up the 100 mile range claim well.
Controller:Zilla Z2k 2000 amp controller. Quick-pull emergency disconnect.
12 volt system:
Meanwell high voltage model DC-DC feeding a 13.2V Thunder Sky lithium battery. After years of DC-DC failures and or going without one, this quality DC-DC, though on the smallish side at 20 amps, is just enough to keep pace with the 12V loads of the Zombie.
Other Mods:
The Fastest Car TV producers wanted White Zombie to have a more 'sleeper' look for the show, so we removed all of the colorful racing stripes and sponsor decals:
The stickerless Zombie and generator loaded and ready for the road trip to southern California:
Car weight: 2350 lbs.
Races and EVents
May 7th...XXX Rootbeer / SEVA EV Car Show, Issaquah, Washington
This EV car show is always fun, and the burgers are killer! .
June 24th...Greenwood Classic Car Show, Seattle, Washington
This was the 13th year White Zombie has been displayed at the Seattle Electric Vehicle Association (SEVA)'Gasless on Greenwood'EVent.
August 13th...NW Datsun Owner's Association Picnic, Blue Lake Park, Oregon
It's always great to be part of this all Datsun show 'n shine event, and the electric powered 1200 is alway a hit.
September 21st...Netflix 'Fastest Car' TV Show, LA, California
White Zombie was trailered 1000 miles from Portland to LA for racing and filming.
September 22nd was spent at several locations doing photo sesions. A fun one was at a power substation:
That late afternoon, we took White Zombie to the Irwindale Raceway for a night of 1/8th mile drag racing. Having been absent from the drag track since 2013, the Zombie picked up from where it left off packing quite a punch on the first of two runs, easily taking down a Hemi-powered Dodge Charger! In the excitement/distraction of doing the TV show thing, we forgot to drop the rear DOT Drag Radials air pressure from their street level of 35 psi (lowest rolling resistance) to the drag race mode of 12 psi (highest traction), so the launch was soft due to excessive wheel spin. After wasting a second or so lighting-up the tires until they got hot enough to stick, the Zombie still managed a 6.88 @ 100 mph and a 6.83 @ 101 mph in the 1/8th mile. These times are just .4 seconds off the Zombie's best 1/8 ET of 6.4 @ 109 mph set in 2010. Considering the tire-smoking launch deficet that still netted those ETs, it appears White Zombie hasn't lost a bit of its moxy. We didn't realize the tire pressure thing until track closing time while loading the car on the trailer, so we weren't able to drop the pressure down and make a couple extra runs, but its reasonable to think the ETs would've dropped to the mid-6 second range.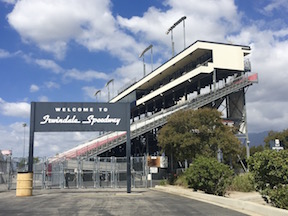 September 26th... The main event of the TV show, the four-car drag race, was 128 miles away in the Mohave Desert:
above: loaded up and ready for the trip from LA to the Mohave Desert.
The Barstow-Daggette Airfield is a historic World War II military base in the high desert:
The Zombie fitted with cameras for the drag race:
Four diversely different high powered machines, side by side on an old landing strip:
Carnage:
(1) During the two 1/8 mile drag runs at Irwindale Speedway while doing initial filming for the Fastest Car TV show, the producers were thrilled with the burnout sequence's nighttime light show that lit up the Zombie's copious clouds of tire smoke with snapping and popping brilliant white and purple flashes - we were not so thrilled! Though it made for great TV entertainment (look at the power of that electric car!) we knew it was a sign of motor arcing. Following the only two runs we had time to get, the car drove through the pits fine with no apparent signs of major damage. The next morning back at the hotel parking lot, an inspection revealed the rearmost motor section of the Siamese 9 had vaporized brushes, but luckily, the commutator was undamaged:
With just two days left before the main four-way desert race filming, great customer service from Netgain Motors had a next day air package of new brushes & springs at our hotel, so we were able to repair the rear motor section.
(2) Since the inception of the Plasmaboy Racing website, everything about the White Zombie project has been chronicalled in the 'White Zombie History' pages - the good and the bad. The 'Carnage' section is where the bad is openly displayed. From blown-up batteries to destroyed motors and everything in between, it's all been an open book. But of all the featured mishaps spanning 24 years, this is prehaps the most painful - the September 26th racing sequence, collision and severe damage the car sustained on an airstrip in the Mohave Desert.
Following the bad outcome of the drag race, the wrecked White Zombie was loaded on the trailer and hauled 1400 more miles along the Mexican border through southern California, Arizona, New Mexico and halfway across Texas to the Bloodshed Motors shop in Austin, where it was left for future bodywork and a repaint:
It was a long 2000 mile return trip to Portland, culminating a 4500 mile road trip that didn't end well.