Zombie History
------------------------------------2013 VERSION-----------------------------------
June, 2013, Burnout during filming of PBS Nova's 'Making Stuff Faster'at Portland International Raceway
Photo courtesy of Carol Brown
Motor: 'Siamese 9' dual armature. Forced air-cooling added.
Below: The Siamese 9 motor had been damaged from over-heating at the 2012 Tucson races and wasn't rebuilt until May of 2013 when we were asked to do the PBS TV show. Here it is torn down in preparation of a rebuild.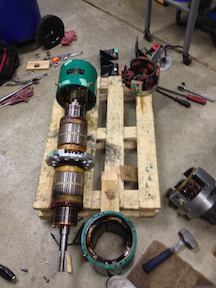 Both armatures suffered melted windings - you can see a damaged one on the left and the new improved one on the right.
Below: Left, pressing the new armatures onto the common stainless steel shaft. Center, the twin new armature assembly. Right, being spun-balanced.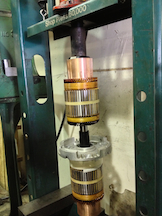 Below: The rebuilt Siamese 9 motor ready to be dropped back into the Zombie. If you look closely, you can see the high perfromance split red top Helwig racing brushes we've added.
Drive type: Direct drive into Ford nine inch differential - no flywheel, clutch or transmission. Electric reverse.
Driveshaft: Single piece all aluminum driveline from 'Inland Empire Drivelines'. NHRA required Driveline loop.
Rear axle: Dutchman heavy duty Street/Strip Ford nine inch rear axle setup with 31 spline racing axles, & CalTracs traction bars.
Strange aluminum differential housing with Detroit locker and 3:25 gear set.
Wheels & tires:Front - American Racing 'Torq Thrust D' 15 x 4 two piece alloys with 5 bolt Nissan/Ford bolt pattern and 145/65/15 Continental EcoContact LRR radials. Rear - American Racing 'Torq Thrust D' 15 x 8 two piece alloys with 5 bolt Nissan/Ford bolt pattern and 225/50/15 BF Goodrich 'G Force' Drag Radials' (23.9" dia.).
>
Batteries:192 Dow Kokam lithium manganese nickel cobalt polymer cells configured at 2P96S make up the Zombie's 355V, 21.3 kWh high current battery pack. With a manufacture date code of 2007 the cells are now 6 years old and have been in service since 2010. All cells are still performing 'as new' and are well balanced. They are 3.7V, 30 ah nominal with a continuous discharge rate of 20C, have a 40C 10 second rating for a maximum of 1200 amps from each cell, and are configured in paralleled pairs so the battery pack can safely output 2400 amps.
Controller:Zilla Z2k 2000 amp controller. Quick-pull emergency disconnect.
12 volt system: Twin unassisted (no DC-DC) 40 ahr Thunder Sky 13.2V batteries, each with 4 ch BMS boards. One is located under the hood, the other one is in the trunk compartment. With 100 miles driving range, 80 ah of 12V system battery power is needed to run things for hours on end.
Other Mods: Other than the rebuild of the drive motor and the addition of forced-air cooling, there were no new changes for 2013.
Car weight: 2364 lbs.
Races and EVents
June 8th... Heads up 1/4 mile drag racing at PIR for filming of PBS Nova's 'Making Stuff Faster'
NOVA's TV star David Pogue gets ready to take the Zombie down the track
Plasma Boy Racing team member Gaylen Aust made several 10 second passes on camera

June 29th... Greenwood Classic Car Show, Seattle, Washington

2013 marks the 9th year White Zombie has been displayed at the Greenwood Classic Car show. In 2011 we drove it from Portland to Seattle and back for the sheer fun of it, but to also demonstrate it's ~ 100 mile highway range. In 2012 it had to be trailered to the show due to its blown motor status from the Tucson EV drag races. Having rebuilt the motor in May of this year, we once again proved the Zombie's street legal capabilities and repeated the drive from Portland, Oregon to Seattle, Washington and back - 350 miles round trip.

Below left: Public 'West Coast Electric Hghway' charging and friends with 50 amp 240V juice made recharging on the road easy. Middle: On display at the BIG car show. Right: Casey Minott details the Zombie.
July 13th... OEVA EV Celebration Day, Portland, Oregon
September - October... 'Cars & Coffe', Oregon City, Oregon
This is a casual 'unofficial' car show that happens every weekend fron the Summer through the Fall - the Zombie made several appearances.
Carnage:
None! From the hard lessons learned at the 2012 Tucson races, forced-air motor cooling was added. Everything worked perfectly throughout 2013, the new cooling system protected the motor, and there were no failures. Other than the one track event in June, the Zombie was not raced again in 2013 - though it was driven extensively as a street EV.