Races and EVents
1-27 thru 1-30, 2011... Portland International Auto Show
February, 2011... Retro Cars magazine
Both White Zombie and its brother Blue Meanie had been featured in the UK's super cool 'Retro Cars' magazine in their January 2009 'Power Issue' (see White Zombie History 2008 'PR and EVents' section). The pair of hot electric '72 Datsun 1200s must have left a lasting impression, as a couple years later they resurface here. Marko Mongillo's rad '59 electric Fiat 600 'Fiamp' on far right also included. Coffee cup stain courtesy of JW.
3-18 thru 3-20, 2011... Portland Roadster Show
The Pin-up Dolls took a liking to White Zombie at the Portland Roadster Show.
4-8, 2011... Friday Night Drags, PIR, Portland, Oregon
These are the caliber of muscle cars the Zombie races against. The fabulous 56 Chevy couldn't hang with the little Datsun that was running mid-10s. This was the only time the Zombie hit the drag track in 2011. The guys at FabTek said that proper scaling of the car might be good for a .2 second reduction in the already impressive 60 ft. times of 1.58 that the Zombie usually nailed on DOT drag radials. We did the scaling which required full suspension tuning, then headed to the track. The first run netted a 1.4-something 60 ft.! Unfortunately, the motor was unhappy and arced and sputtered, so it was only a high 10 second run. The next run's launch was crazy with an amazing 1.33 60 ft., but the Zombie only ran a mid-10 with sparks flying and the motor sputtering again. The third run was the nail in the coffin as the motor went into full failure mode, and we were done for the night. FabTek's prediction was spot on, and we dropped from our best 60 ft. of 1.58 to that 1.33 ... without resorting to drag slicks, running on the street legal drag radials we drove to the track on! That's a .25 second improvement. Considering the Zombie's three nearly identical 10.2 second runs from the Fall of 2010 - the best ET of 10.258 that had a 1.62 second 60 ft. could have been a 9.96 ET if the 60 ft. had been 1.33... the 9 that got away?
4-23, 2011... Rosedale Green Festival, Rosedale Elementary School, Hillsboro, Oregon
6-11, 2011... 'Cruisin' Sherwood' hotrod car show, Sherwood, Oregon
This was a fun hotrod show, and the Zombie turned quite a few heads. Note the T shirt a vendor was selling to the typical gas crowd. If they didn't like eco-friendly electric cars already, they probably really got upset when they read the specs of the Zombie's stand-up that read '0-60 in 1.8 seconds'!
6-25, 2011... 'Greenwood Classic / SEVA Gasless on Greenwood' hotrod car show, Seattle, Washington
2010 broke the streak of 6 years in a row due to the Zombie undergoing heavy mods at the time, but it returns to the Greenwood Classic in 2011 making it's 7th appearance at this annual car show that always draws huge crowds.
(above) With its new 21.3 kWh lithium pack installed in mid-2010, the Zombie has up to 100 miles range per charge @ 55 mph, and about 80-85 miles at higher freeway speeds. This was the first time we drove the Zombie up the I-5 freeway system 350 miles round trip to the Greenwood car show in Seattle. Even though Portland and Seattle are 175 miles apart, we decided to leave the trailer at home and relied on oportunity charging along the way. The good folks at 'Bob's Lil Car Hospital in Kelso, Washington, let us do a prearranged pit stop to charge off their 240V - 50 amp welder circuit. The pack was still at about 40% capacity when we pulled in after 52 miles of freeway driving. (below left) You can see Seattle's skyline in the horizon as the Zombie demonstrates it's the only low 10 second electric drag car that's also a fully street legal car capable of this kind of range. The green graph on dash display shows a ruler-flat top edge as all 192 cells are nicely equalized. (below right) Note that we don't crawl to prove the range, and occasionally even get warned by the GPS (see red zone) we are breaking over the posted limit!
7-9, 2011... 'OEVA EV Awareness Day', Pioneer Courthouse Square, Portland, Oregon
The Zombie and Gaylen's quick Lithium-powered electric quad on display together.
7-29 thru 7-30, 2011... 'EV Seminar', Electricians Union Hall, Kent, Washington
The Zombie was on display at this two day event. Note Plasmaboy's silver Insight destined to be a 400 mile per charge EV crusier 'Silver Streak' and already sporting the custom AC/DC plate!
8-6, 2011... 'Blueberry Festival', Mossy Rock, Washington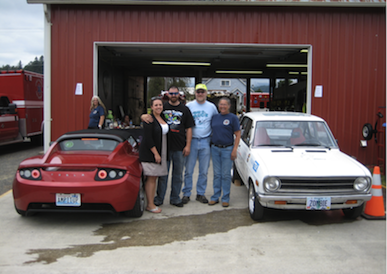 Plasmaboy Racing team member Gaylen Aust hails from this small town that puts on a country celebration that includes great food, great pies, and a fun parade. The Zombie was invited to join in and got to cruise along with tractors, firetrucks and Mossy Rock entertainers as part of the festivities.
8-14, 2011... '27th Annual NW Datsun Owners Show & Shine Picnic', Blue Lake Park, Troudale, Oregon
The summer of 2011 was packed with car shows! Following the previous weekend up in Mossy Rock, Washington, the Zombie returns to Oregon to take part in the annual Datsun party at Blue Lake just east of Portland in Fairview. Several other Datsun 1200s made it to the show.
9-10, 2011... 'Cars in the Park', Portland Art Museum, Portland, Oregon
This was an enjoyable EV show to be part of, in front of the Portland Art Museum on a beautiful Fall day!
9-16 thru 9-17, 2011... 'Susan B Komen Health Fair', Convention Center, Portland, Oregon
White Zombie on display at the Portland Convention Center
11-4, 2011... 'Revenge of the Electric Car', movie premier at the Hollywood Theater in Portland, Oregon
White Zombie is part of an EV gathering and joins movie director Chris Paine at the Portland premier EVent.