Zombie History
------------------------------------2009 SUMMER VERSION-----------------------------------
July 24th 2009, PIR
Photo courtesy of Carol Brown (photogal@iglide.net)
" Words cannot describe how exciting it was to be flying down the road pacing/slowly gaining on an EV drag racing legend. I was lucky they didn't get a sub-12 time on that run so that I could feel like I was actually in the race for a few seconds."
(quote from Tom Saxton, Tesla owner)
Motor: 'Siamese 8' dual armature with selectable series/parallel wiring.
Drive type: Direct drive. Electric reverse.
Driveshaft: Single piece all aluminum driveline from 'Inland Empire Drivelines'. NHRA required Driveline loop.
Rear axle: Dutchman heavy duty Street-strip Ford nine inch rear axle setup with 31 spline racing axles, air shocks & traction bars. Strange aluminum differential housing with Detroit locker. 4:11 gear set (Richmond Gear brand) to better handle the increased weight of this heavier lead acid pack w/roll cage version of the car.
Wheels & tires:Front - Eagle 5 spoke 13 x 5.5 alloys with 4 bolt Nissan rear drive offset and 185/50/13 Pirelli P7 radials.
Rear - Eagle 5 spoke 14 x 6 alloys with 5 bolt Ford front drive offset. BF Goodrich 'G Force Drag Radials' (24" dia.)
Batteries:60 Enersys high current 16 ahr @ 14.2 lbs. each lead acid batteries. Total pack volts 360 (2 X 360V in parallel) and the combined weight of both packs at 852 lbs. With the pack now at 3 years old, 8 of the weakest modules were replaced with 8 new ones. Special thanks to Dick Brown for the sponsored extra batteries just in time for the big July races!
Controller:Zilla Z2k 2000 amp controller with Hairball interface. Programable automatic series-parallel contactor control. Quick-pull emergency disconnect. A small inverter provides 120 vac to run a nearly silent AC aquarium pump inside a windshield washer tank for liquid cooling of the controller.

Quoted from the 'Design News' interview with Plasma Boy:

Racers are enamored with the Zilla because it's all about power. In a green box (it's the same color as Godzilla) a little bigger than a loaf of bread, the Zilla can control upwards of a half-megawatt of power, they say. "You can program the Zilla for ungodly motor current," notes Wayland. "So you can nail it off the line and protect your battery and only pull, say, 800 A or 900 A out of your battery. But then you can slam 2,000 A into the motor."
12 volt system: Unassisted 16 ahr Enersys 12V battery as the 12V system supply.
Other Mods:
None.
Car weight: checked on digital scales, 7-16-09, at 2660 lbs. (+ or- 20 lbs.)
Races and EVents
3-09...A story about spanking Vettes at the drag track appears in an East Coast magazine:
5-15-09...White Zombie on Display at the 2009 Solar and Sustainability Science Fair at PHC Northwest in Northeast Portland: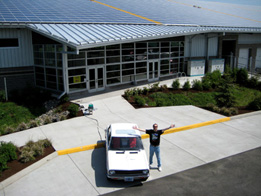 5-25-09...'Design News' highlights electric drag racing in their May issue. Along with other notable EV racing machines, White Zombie is pictured and covered in this tech magazine's feature story about powerful EVs:
6-2-09...White Zombie on Display at the one year anniversary of the Longview, Washington EV club:
6-27-09...White Zombie teams up with SEVA and returns to Seattle's 'Greenwood Classic' car show:
7-11-09...White Zombie on display at OEVA's EV Awareness Day car show, at Pioneer Square in downtown Portland:
7-24 & 25-09 White Zombie races at the 'Wayland Invitational IV' electric drag races at PIR in Portland, Oregon.
7-24-09...White Zombie lines up with a hot Tesla Roadster:
7-25-09...After finding and replacing the blown battery from Friday night, White Zombie almost dipped into the 11s with a 12.073 @ 105.53 mph...on three year old lead acid!
Carnage:
At the Wayland Inv. races Friday night, July 24th, after a respectable 12.694 first run with three year old batteries, we couldn't help but notice the sub-100 mph trap speed of just @ 96.87 mph. We also couldn't help noticing the slight fogging of the Lexan top cover for the back seat area battery compartment...not a good sign and a hint that there might have been more than just 8 bad batteries in the three year old pack. Still, the 12.694 run was enough to beat the slick Tesla in the other lane. Instead of running quicker with the pack now warmed up, the 2nd & last run of the night came in even slower at just a 12.996 @ 89.60 mph. The Lexan was soaking wet...clearly, we had blown a battery and we were done for the night.